Everyone collaborates around a shared catalog.
The Data Engineer builds data products.
The Business Analyst works from data to iterate on insights.
The Executive shares insights w customer.
The Data Scientist uses the data and insights to build models.
The Partner contributes data to enhance the building blocks.
The Customer queries insights to optimize their business.
We're able to superpower our team and deliver greater insights at the speed of business.
Team leaders
Increase your team's collective productivity
Quickly onboard new team members
Level-up every member to your strongest
Grow your team's intellectual assets
It's great that I'm able to write queries against multiple data platforms without having to open a new tool.
Analysts
Discover and create insights
Explore and analyze data across all data platforms
Everything you need in one tool
Easily find previous versions of shared code
The catalog allows me to build my pipeline from reusable blocks and manage versions of my work.
Data Engineers
Design, build, and maintain your data warehouse
Efficiently create and share data models and schemas
Work against any data platform
Build your pipeline from shared and reusable components
Using the shared Catalog, we have everyone working from a common foundation of analysis.
Architect
Create standard analytic products from your organization's best work
Promote the best analysis into your metrics catalog
Help teams optimize their work
Create standard practices and guidance
I want to be able to provide the context of the SQL for others to see what the code is used for.
Data Scientists
Spend less time cleaning data and more time training models
Spend less time cleaning data and more time training models
Reuse common data cleansing code
Collaborate with your entire team
Every line of SQL is valuable to your entire team
Your team's lines of code are assets that everyone can benefit from. Share them. Open them up for collaboration with Coginiti Team.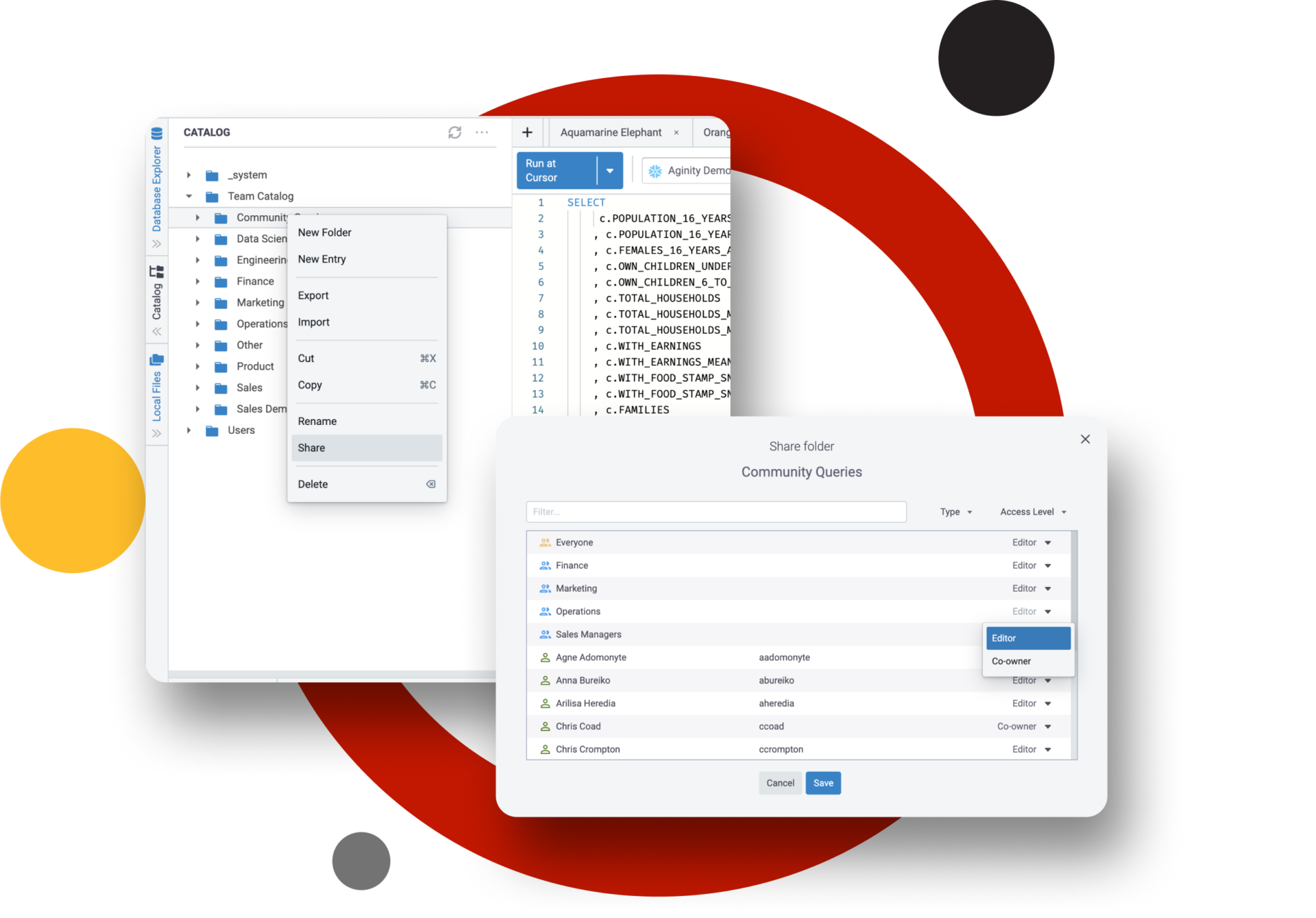 A faster way to build data pipelines
Coginiti's Active Analytics Catalog turns SQL into building blocks.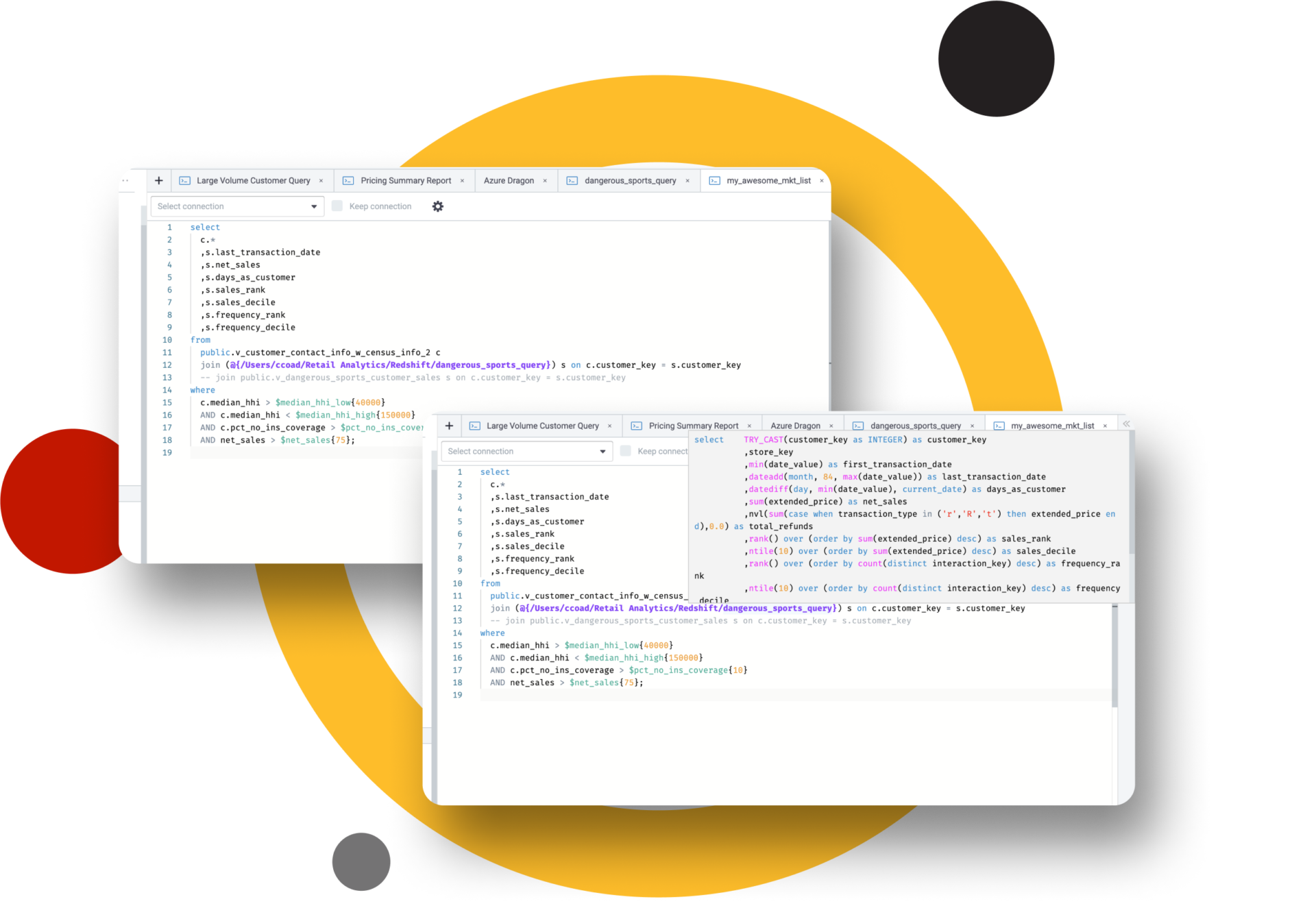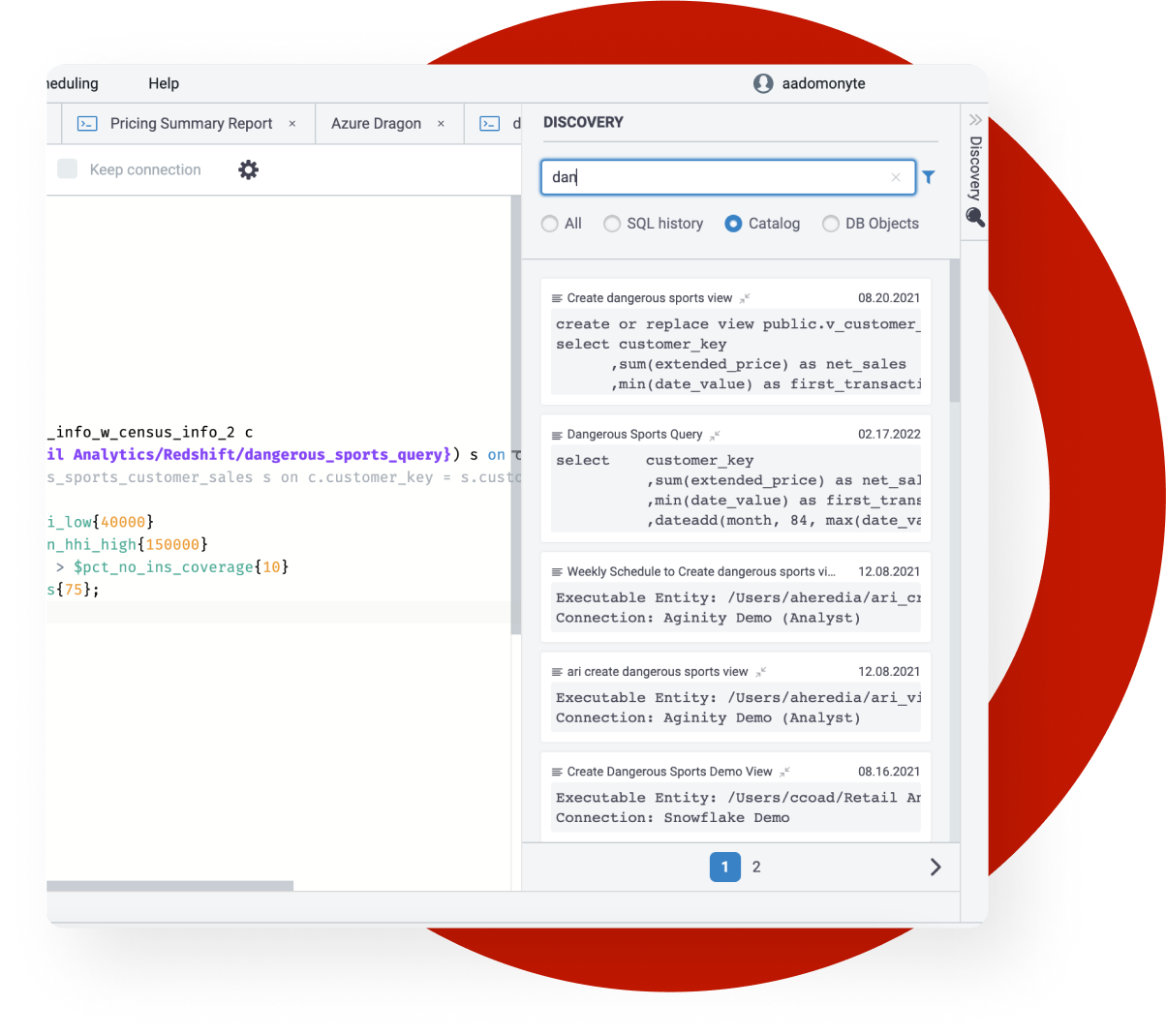 Discover and reuse your team's best work
Make your team's code visible and usable for all.
Make your work visible, not stuck in files, emails or instant messages
Search across your entire history and shared catalog
Rich metadata helps everyone find the right analytic for their project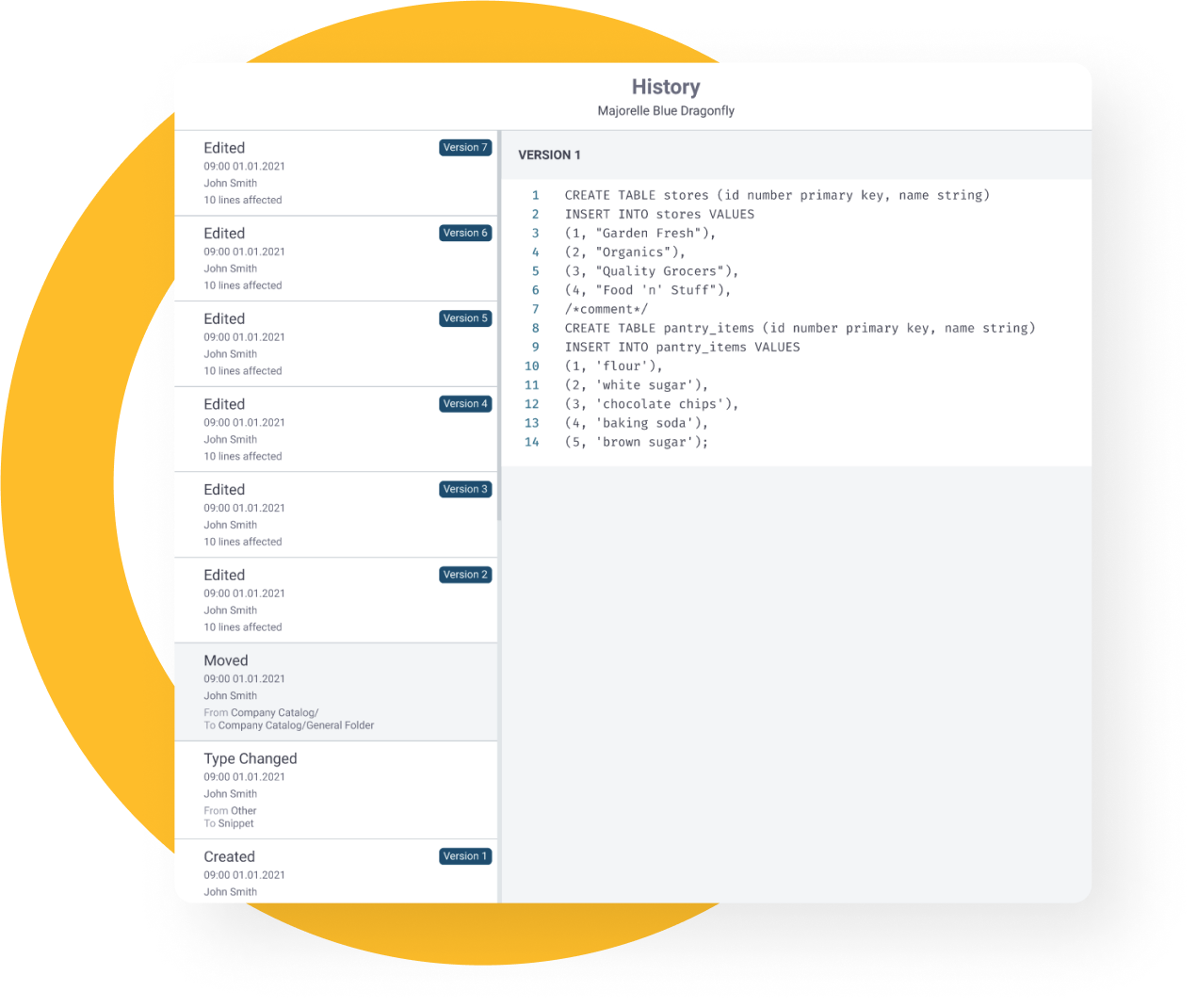 Keep all your work in sync by managing multiple versions
Coginiti's version management provides everyone a clear view of change. When you need to make a change, update your active analytics catalog object. Your update will propagate to dependent analytics.
Make code changes in one spot
Code changes updates all dependencies
Visibility downstream lets users choose the appropriate version
What is an analytics catalog?
Keep your work secure
Coginiti gives you complete control over the way your team works—with flexible sharing permissions and security controls.
Centrally manage security and provisioning
Give access to users that meet your team's security standards
Users provide different access permissions to team members using dynamic entitlements
Customers comment on Coginiti at the Unite 2022 Summit
Database Platform Support
Universal Support from Industry Leaders
Connect to today's modern cloud and on-premise databases, with deep native support for:
Coginiti is here to help
Your team's lines of code are assets that everyone can benefit from. Open them up for collaboration with Coginiti Team.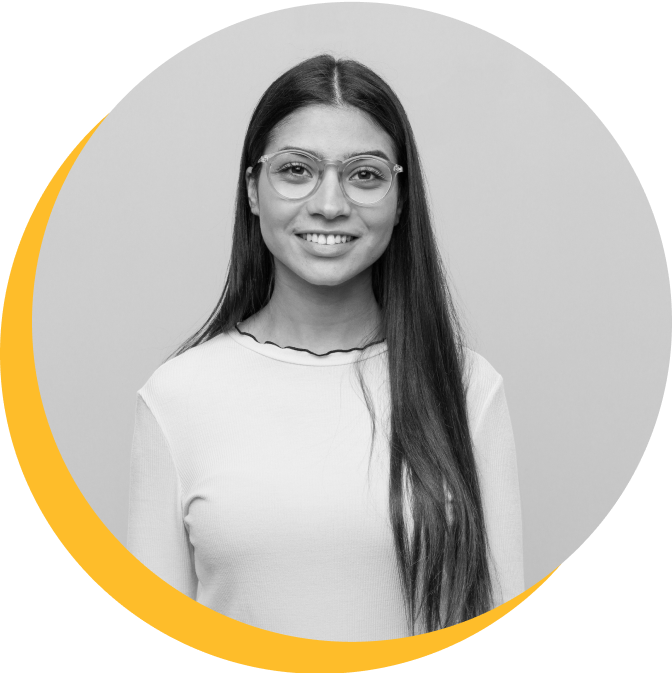 Product manager
Partnering with our customers
Our Product Managers are super familiar with the context of you work. They bring empathy and logic to their understanding of your needs, and the opportunities for innovation that can result. Your ideas become the fuel for our engineering team to continually innovate.
We'll help you adopt collaborative best practices. We can schedule check-ins to make sure you're maximizing the value of Coginiti Team.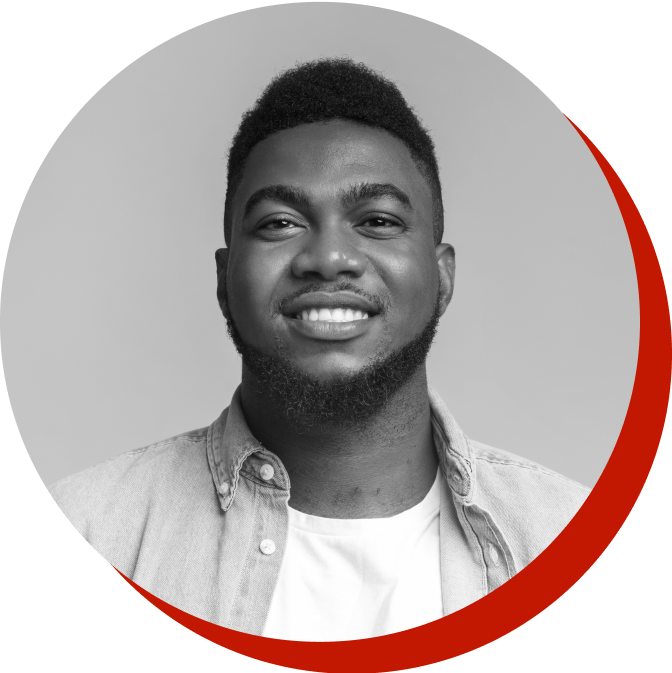 Customer Success
Get up and running in no time
Deploying and using Coginiti Team is a breeze. You can download the product and fire it up on your own or our Customer Success team is always here to help. We will work with you to ensure everything is up and running as expected, and share some tips and tricks about how you can quickly import your current SQL code to Coginiti Team.
Coginiti Team
Join the other businesses who use Coginiti to help make their organizations radically more productive.