We're excited to announce the Coginiti Execution API exclusively for our Team and Enterprise customers. This new innovation promises to redefine the way users interact with and retrieve data sets, bringing unmatched efficiency to the data analytics experience. Here's what you need to know:
1. Fetch Data Sets with Ease
With the Coginiti Execution API, users can effortlessly fetch data sets defined in the analytics catalog, bringing ease of use along with increased governance. No more tedious manual data extraction. Simply connect, retrieve, and you're good to go!
2. Versatile Data Formats
Understanding that different projects require different data formats, the Execution API supports a variety of return data formats including JSON, CSV, and Arrow Stream. Whether you're building a web application or conducting a data analysis, we've got you covered.
3. Integration with Popular Tools
The Coginiti Execution API is designed to be compatible with popular data visualization and analysis tools such as PowerBI, Excel, and Jupyter Notebooks. This ensures that users can easily plug their preferred business tools into Coginiti without any hitches.
4. Seamless Orchestration
Data transformation is often part of a much wider workflow, organizations can connect orchestration tools like Dagster or Kestra to now trigger CoginitiScript blocks that publish data directly to their data platform or object storage. We are bringing more automation, less manual intervention, and faster results.
5. Enhanced Data Quality Checks
Quality assurance is non-negotiable in data engineering and analytics. With the Execution API, users can execute CoginitiScript data quality tests via their orchestrator of choice. This continuous pulse ensures that you always have up-to-date data quality checks, guaranteeing the integrity and reliability of your data.
In Conclusion
The Coginiti Execution API is not just another feature; it's a testament to our dedication to providing our users with the best tools to make their data analytics journey smoother and more efficient. We believe that with this new addition, our Team and Enterprise customers will be better equipped to handle the ever-evolving challenges of the data landscape.
The diagram below illustrates how Coginiti continues to evolve as the central hub in the data flow process.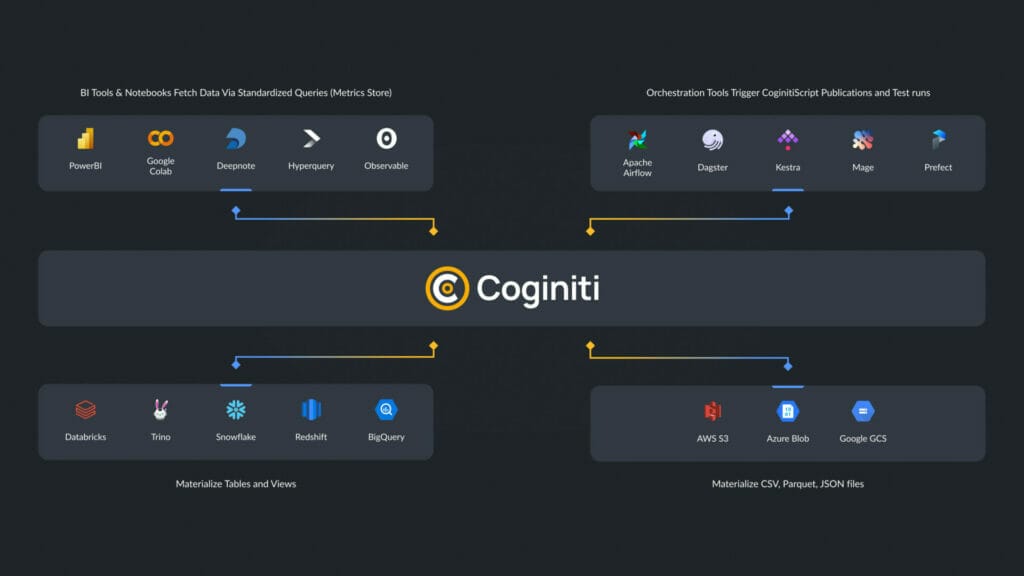 If you have any questions or need further information, feel free to reach out to our sales team.