Coginiti 23.2 is now available for download! From streamlined data access with new Object Store integration to enhanced data security with proxy support, this release is packed with value-driven updates to help you generate consistent, high-quality insights in less time.
Object Store File Management
We're thrilled to introduce Object Store integration to seamlessly access and manage your data assets regardless of where they're stored. Users can now efficiently manage files in Amazon S3, Azure Blob Storage, and Google Cloud Storage directly within Coginiti, eliminating the need for multiple tools. This initial release supports file management operations including browsing, uploading, downloading, and deleting files.
To start working with object store files within Coginiti, expand the Files panel on the left, then click the 'Object Stores' tab. From here you can set up one or more connections to S3, Azure Blob Storage, or Google Cloud Storage. With your credentials successfully applied, you're ready to expand your new connection to begin browsing files within specific buckets or containers.
Stay tuned for future updates… Additional capabilities are already in the pipeline, such as opening and editing object store files directly within Coginiti!
Save Query Result to a Table
Need to quickly lock in your query results before embarking on further analysis? Our results grid now includes a new action to make this a cinch so you can focus more on data analysis and less on time-consuming data management tasks. Simply click the new "Save to Table" button, then specify the destination and table name, and Coginiti will take care of the rest.
On initial release, "Save to Table" will save the original query results, but functionality will soon be extended to reflect the output of any manipulations made using Coginiti's advanced results grid actions, such as filtering and pivoting.
Proxy Support for Enhanced Security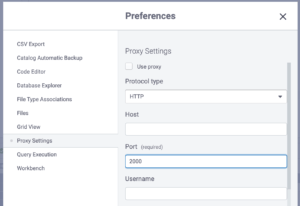 Data security is of utmost importance, which is why we're proud to announce a new optional setting to connect to your databases through a proxy. We've made it easy to configure this additional layer of security which may be required by your organization. First, open Preferences under the main Coginiti menu in the top left corner of the application. From here, choose "Proxy Settings."
Streamlined Query Connection Settings
We're pleased to introduce the new vertical connection dropdown list, which cleans up our query editor command bar with a more intuitive and organized layout. More importantly, this change opens up more space within the command bar for additional actions. You're going to love what's to come!
Indicator for New Notifications
It's essential to keep close tabs on the status of critical scripts and behind-the-scenes data operations. We introduced the Notifications panel last year as a central hub to check the status of background actions such as data uploads and scheduled queries. Subsequent releases extended this functionality with notification date filtering and additional notification triggers, such as when edits are made to one your Catalog assets.
Recognizing that certain error notifications may demand an immediate response, our latest release makes it easier to stay reliably informed. The Notifications panel will now display an amber-colored indicator when you have any new unread notifications. This indicator will disappear shortly after you open the Notifications panel to review.
—
At Coginiti, we're committed to empowering data engineers, analysts, and business teams to generate consistent, high-quality insights in less time. Not yet a Coginiti user? Download your trial of Coginiti Pro, or schedule your Coginiti Premium demo to see these powerful new capabilities for yourself!