ATLANTA, GA, USA, June 20, 2023 — Coginiti, a leading provider of innovative data analytics solutions, is thrilled to announce the integration of generative artificial intelligence (AI) capabilities into its platform, empowering data professionals with advanced support for writing SQL queries. This breakthrough capability will empower users to optimize their SQL code, improve efficiency, and unlock the true potential of their data-driven decision-making.
SQL (Structured Query Language) serves as the cornerstone of relational database management systems, allowing users to interact with and manipulate data effectively. However, writing SQL queries can be a complex and time-consuming task, often requiring extensive knowledge and experience. Coginiti recognized the need for a solution that would simplify SQL query creation and empower users of all skill levels.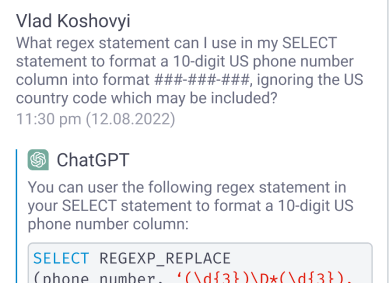 Coginiti's newly introduced AI-powered analytics advisor streamlines the process of crafting precise and efficient queries for analysis. Leveraging large language models from OpenAI ChatGPT, and coming soon GitHub Copilot, Amazon CodeWhisperer as well as Coginiti's own proprietary model, the AI-powered system assists users in generating high-quality SQL code quickly and effortlessly. Whether users are novices or seasoned data professionals, Coginiti's generative AI acts as a built-in analytics advisor saving valuable time and minimizing errors.
Key features and benefits of Coginiti's AI-powered SQL writing support include:
Natural Language Processing (NLP) Assistance: Data analysts can now interact with Coginiti's AI writing module using natural language commands, making it easier than ever to create complex queries without extensive SQL expertise.
Intelligent Query Syntax: Coginiti will provide the correct SQL syntax for the data connections to which users connect, offering data analysts valuable guidance and reducing the risk of syntax errors or inefficient queries.
Enhanced Query Performance: Coginiti users can optimize SQL queries, improving performance by reducing response times, minimizing resource utilization, and lowering compute costs. This optimization ensures users can extract insights from their databases swiftly and efficiently.
Adaptive Learning: Coginiti's AI module learns from user interactions, continually improving its recommendations and suggestions over time. It adapts to individual user preferences and evolving SQL trends, ensuring an increasingly personalized and efficient experience.
"We are excited to bring generative AI capabilities to the SQL writing process with Coginiti," said Rick Hall, CEO at Coginiti. "By leveraging large language models, we aim to empower data analysts with an intelligent assistant that not only speeds up query creation but also enhances the quality and accuracy of their work. Coginiti's AI-powered SQL writing support is a significant step forward in enabling data professionals to focus on data analysis and deriving valuable insights rather than getting caught up in the complexities of query writing."
Coginiti's AI capabilities are 100% optional. Coginiti ensures there is always a human in the loop making the decision to use our AI capabilities. Users elect to turn the AI module on or off, connect to the generative AI model of their choice, and share metadata with Coginiti's 3rd party integrations. Coginiti does not allow 3rd party generative AI models to have direct access to your data platforms.
Coginiti's AI-powered SQL analysis support is available immediately to all existing and new users of the platform, extending the value Coginiti provides as the top commercially supported enterprise SQL IDE according to the Gartner Peer Insights Community.
The company remains committed to continuous innovation, with ongoing research and development efforts focused on expanding the capabilities of its AI-powered solutions. To support the next expansion of its AI capabilities, Coginiti is launching a pilot program for enterprises interested in helping it develop its own proprietary large language model for analytics development. The model will be trained on your data to run in your private environment, providing custom generative AI capabilities for each enterprise that chooses to participate.
For more information and to experience the power of Coginiti's generative AI-assisted SQL analysis support, visit coginiti.co and if you're interested in learning more about Coginiti's new AI enterprise pilot program, please email: info@coginiti.co.
About Coginiti
Coginiti is a leading provider of data analytics solutions, helping organizations unlock the true potential of their data. By combining cutting-edge technology with deep industry expertise, Coginiti delivers innovative analytics solutions that drive actionable insights and enable data-driven decision-making.
Press Contact:
Chris Coad
SVP of Customer Development
Coginiti
+1 (470) 468-5386